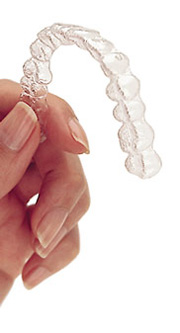 Dr. Mozafari Is A Certified Preferred Invisalign Provider
Consider Invisalign treatment to get the beautiful straight teeth you've always wanted — without braces. A complimentary consultation with Dr. Setareh Mozafari can determine if Invisalign clear aligners are right for you.
While Dr. Mozafari will still need to evaluate your needs to ensure that Invisalign would be the most efficient orthodontic treatment for your particular malocclusion, the daily improvements and updates in this sophisticated software mean that a wide range of people can be treated with Invisalign. Dr. Mozafari stays up to date with Invisalign technology by participating in advanced training courses to assure the most efficiency in her treatment approach.
What Is It?
Invisalign treatment uses a series of virtually invisible, removable, and comfortable aligners that allow you to smile more during treatment as well as after. Invisalign is a great way to straighten your teeth without a big change or compromise in your lifestyle. You will be wearing removable clear, almost invisible aligners for a majority of the time during the day and overnight. The aligners gradually move your teeth to their optimum alignment.
Why Would I Want It?
Aesthetics: Invisalign aligners are clear, so you don't need to worry about the way your smile looks while you're straightening it.
Comfort: With no metal brackets or wires, Invisalign eliminates soreness and abrasions common with traditional orthodontic treatment.
Convenience: With Invisalign, you will not have any food restrictions, and, because the aligners are removable, brushing and flossing are done normally.
How Does It Work?
To begin your Invisalign treatment, you'll visit Signature Orthodontics so we can take initial impressions of your teeth. Our iTero® Element™ digital scanner eliminates the process of taking traditional impressions or molds, is a much more comfortable experience, and provides superior accuracy of the scan and the fit of aligners as compared to traditional molding. These scans are sent to Invisalign, where your aligners will be made.
You wear each set of aligners for about two weeks, removing them only to eat, drink, brush, and floss. As you replace each aligner with the next in the series, your teeth will move — little by little, week by week — until they have straightened to their final positions.
Invisalign success depends on you! If you wear your aligners consistently and visit our Cupertino or Los Altos orthodontic office for your scheduled appointments every eight to ten weeks, you will have a successful result.
To learn more about Invisalign at Signature Orthodontics, schedule a consultation at our Cupertino or Los Altos orthodontic office. We can't wait to create your Signature smile!